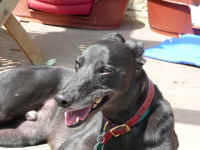 Rocket
He is a half pint compared to our larger greyhounds. Rocket is a small male lurcher
Ewan
Ewan is a large, fluffy brindle and white dog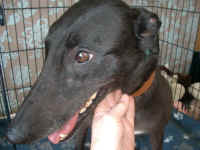 Daisy
A small friendly happy greyhound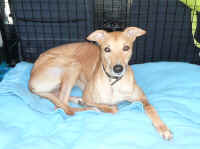 Floyd
Floyd has become a confident and happy dog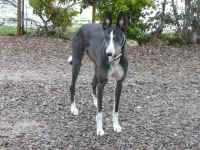 Jackie
Small with giant ears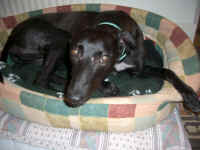 Charlotte
Charlotte is full of fun, very affectionate and only 11 months old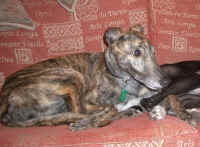 Jojo
A beautiful affectionate brindle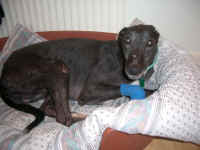 Chris
At the moment we can't decide if Chris is going to be a blue or a black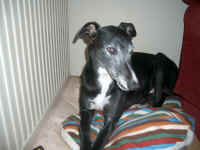 Ben
Looks old with his grey face, but is young in heart and spirit. He is only 5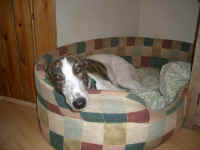 Suzy
Suzy is a very pretty brindle and white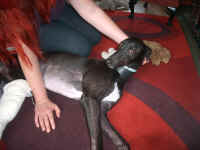 Pippa
Pippa arrived with a broken leg from the track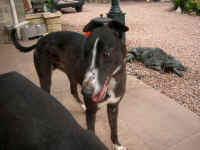 Tim
His racing career has never really got off the ground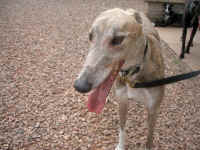 Amber
Amber is the most stunning colour with a beautiful face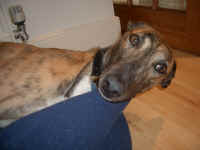 Katie
Katie is a darling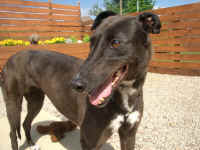 Ruby
A small black ex racer who is just losing her woolly brown kennel coat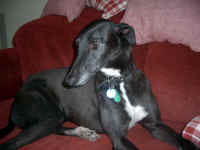 Emma
Emma is a little dog who just wants to be hugged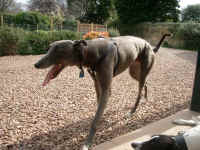 Jethro
Jethro is a beautiful blue, he has a big personality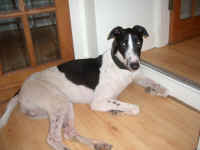 Marcus
Marcus is staying where he is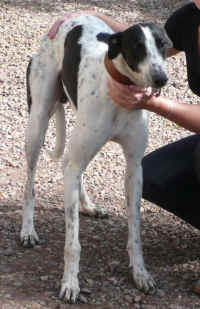 Roddy
Roddy and Marcus are two dogs well worth meeting.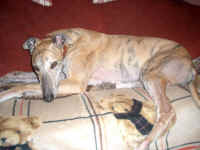 Rory
Due to the sudden death of his owner Rory has come back to us and is now looking for a new home.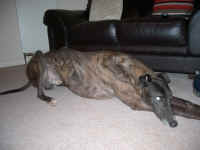 Jackson
A sweet natured, tall skinny malinkey boy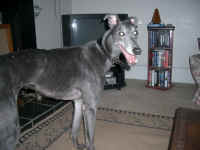 Misty
Misty is the first dog that has come to us with a home to go to straight away.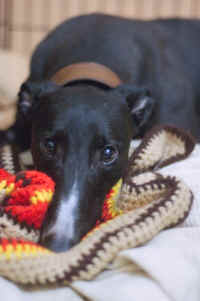 Torres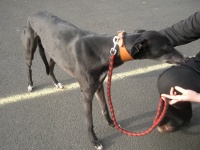 Tar
Tar has a wonderful comical face with his big ears and wee bent nose.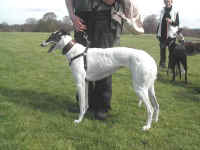 Snowflake
Snowflake is in the process of being re-homed.
Duke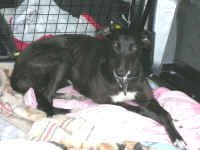 Lucy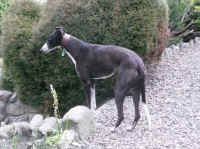 Tabitha
Tabitha is going to stay permanently in her foster home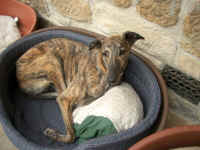 Rosie
Rosie has up until now she has spent her life in a kennel with her sister Daisy.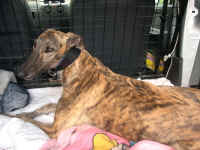 Daisy
Daisy arrived with her sister Rosie. She is the bolder of the two. They are both a sheer delight. She has always lived in a kennel but never raced.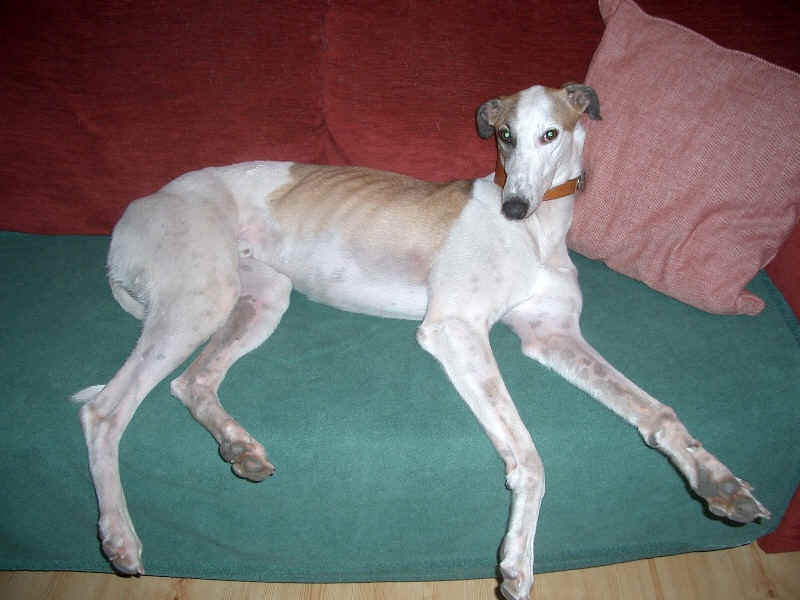 Charlie
Hi, I'm Charlie. I get on with people, dogs and cats and would love a home of my own.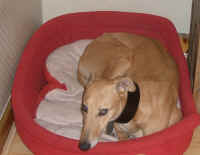 Ricky
A beautiful red ex-racer. He has been with us a few days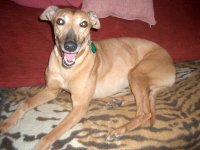 Lizzie
Lizzie was not a racer but came from a kennel.
She's a small red greyhound settling well.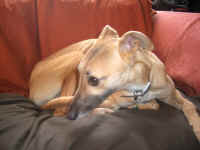 Alice
Little Alice died suddenly and very unexpectedly,
having only been in her perfect home for a year. She is
dearly loved and greatly missed.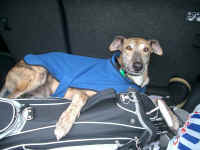 Rory
Rory is a beautiful tan & black ex-racer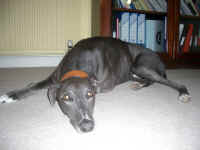 Deacon
Deacon is an ex-racer and a gentleman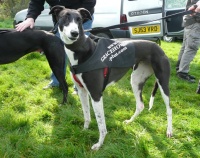 Molly
Molly is a beautiful 3 year old ex racer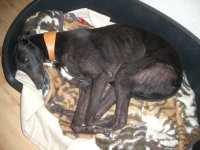 Phoebe
Phoebe is Millie's sister who has just spent the last 3 months in the Pound. A sweet little affectionate dog.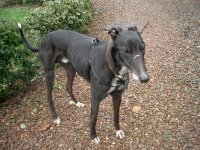 Prince
Prince was called Bryn by his owners. He sadly died on the 4th September 2010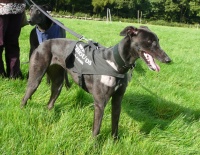 Millie
Small and gangly Millie is only one year old. She was found abandoned and in need of a lot of TLC.
Millie has now been re-homed and has gone to live with Jamie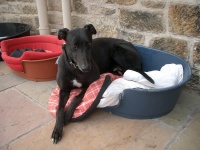 Keanu
Keanu is an ex-racer. He has a lovely nature and is very friendly and playful.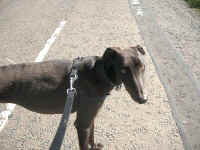 Jamie
Jamie has spent the last 6 months in the pound and is in need of some care and attention.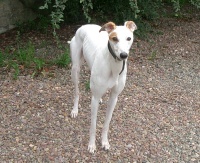 Bailey
Bailey is a very handsome boy with a lovely nature and has always been a pet.
Bailey has now found a new home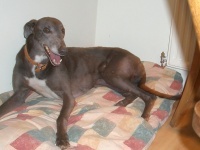 Bluebelle
Bluebelle is 5 yrs old, a wonderfully sweet and gentle greyhound just retired from racing and now looking for her forever home.
Belle has now found a new home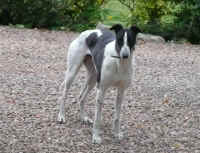 Luke
Due to unforeseen circumstances Luke was put to sleep. He was such a loveable dog. Greatly missed.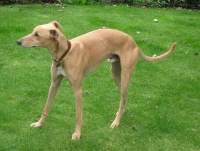 Zac
Zac is 6yrs old, a beautiful red coat greyhound cross who is full of fun and just wants to be hugged
Zac, having had a wonderful new home for a year, suddenly and so sadly died. Please click here for a tribute to Zac